Creative Algorithms' is pleased to announce the release of
Trip Boss travel manager,

Itineraries edition
, available exclusively from within Trip Boss travel manager,
via in-app purchase
.
PLAN
STORE
MANAGE
SHARE

REVIEW
Plan, store, manage, share, and review your itinerary in one convenient place. Supports up to 50 types of travel itineraries and a host of predefined locations and travel providers. Add additional itinerary types and places as you go.
Travel data synergy
. Eliminate double entry by sending data between modules. Works hand and hand with the Expense module--record an expense right from your itinerary entry. Or, add a new itinerary entry from your expenses.
You can't do that with two separate travel apps.
Manage your itinerary.
✔ Planes. Trains. Automobiles. Buses. Cruises.
✔ Lodging. Camping.
✔ Car Rental. Ground Transportation.
✔ Dining.
✔ Meetings.
✔ Parking.
✔ Tours. Sightseeing. Events. Side Trips.
✔ SPECIAL ROUTE PLANNING using bonus Travel Time calculator™.
Share Itineraries.
Email. Print from device.
Add on the Itineraries module right from within Trip Boss, Expense & Budget edition. Just tap on our in-app module Store to view and purchase this add-on module. More modules to follow as Trip Boss works hard to become
your complete travel manager
.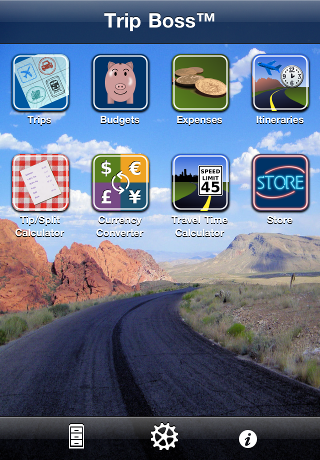 ✔ Trips - keeps track of basic trip info
✔ Budgets - set trip budgets
✔ Expenses - log and track trip expenses
✔ Tip/Split calculator - calculate meal tips/splits
✔ Currency calculator - real time currency rates
✔ Store - add modules using in-app purchase
✔ Itineraries - manage your trip plans
✔ Travel Time Calculator - distance/speed/time
Start by purchasing
Trip Boss travel manager, Expense & Budget
edition. Add on Itineraries.
Coming soon: Journal.
If you decide to buy,
please leave a review.
We always love getting
customer feedback!